[@acc_code@] [@acc_qty_multiplier@] [@active@] [@actual_height@] [@actual_length@] [@actual_width@] [@alias_description@] [@alias_sku@] [@allow_oversell@] [@approval@] [@approval_mobile@] [@approval_pos@] [@arrival_date@] [@artist_author@] [@asset_account@] [@auto_url_update@] [@availability_description@] [@available_preorder_quantity@] [@avg_cost_price@] [@barcode@] [@barcode1@] [@barcode2@] [@barcode3@] [@barcode_height@] [@base_unit@] [@base_unit_qty@] [@brand@] [@brochure_url@] [@build_quantity@] [@buy_qty@] [@cogs_account@] [@committed_quantity@] [@compatibility_code@] [@compatibility_notes@] [@content_id@] [@cost@] [@coupons@] [@created_at@] [@cubic@] [@current_id@] [@current_sku@] [@custom_label@] [@date_created@] [@default_purchase_price@] [@default_restock_quantity@] [@description@] [@display_template@] [@dropshipper@] [@ebay_description@] [@ebay_product_detail@] [@ebay_quantity@] [@editable_bundle@] [@expense_acc@] [@extra@] [@featured@] [@features@] [@filter1@] [@filter2@] [@filter3@] [@filter4@] [@filter5@] [@filter6@] [@filter7@] [@filter8@] [@filter9@] [@format@] [@free_gifts@] [@gp_restriction@] [@group_name@] [@handling_time@] [@has_child@] [@has_components@] [@has_from_price@] [@has_mlp@] [@height@] [@hs_tariff_number@] [@id@] [@image_url@] [@image_url_check_days@] [@imgupd_date@] [@in_display_page@] [@income_account@] [@incoming_quantity@] [@inpromo@] [@instock@] [@internal_note@] [@inventory_id@] [@is_au_gst_exempted@] [@is_bought@] [@is_inventoried@] [@is_kit@] [@is_neto_utility@] [@is_nz_gst_exempted@] [@is_sold@] [@itm_gp_id@] [@itm_sortorder@] [@itm_sortorder2@] [@itm_subtype@] [@job_id@] [@keywords@] [@length@] [@limited_stock@] [@manufacturer_model@] [@max_qty@] [@min_qty@] [@misc1@] [@misc10@] [@misc10_name@] [@misc11@] [@misc11_name@] [@misc12@] [@misc12_name@] [@misc13@] [@misc14@] [@misc15@] [@misc16@] [@misc16_name@] [@misc17@] [@misc18@] [@misc19@] [@misc19_name@] [@misc1_name@] [@misc2@] [@misc20@] [@misc20_name@] [@misc21@] [@misc22@] [@misc23@] [@misc24@] [@misc25@] [@misc26@] [@misc27@] [@misc28@] [@misc29@] [@misc2_name@] [@misc3@] [@misc30@] [@misc31@] [@misc32@] [@misc33@] [@misc34@] [@misc35@] [@misc36@] [@misc37@] [@misc38@] [@misc39@] [@misc3_name@] [@misc4@] [@misc40@] [@misc41@] [@misc42@] [@misc42_name@] [@misc43@] [@misc43_name@] [@misc44@] [@misc44_name@] [@misc45@] [@misc45_name@] [@misc46@] [@misc46_name@] [@misc47@] [@misc48@] [@misc49@] [@misc4_name@] [@misc5@] [@misc50@] [@misc51@] [@misc52@] [@misc53@] [@misc54@] [@misc55@] [@misc56@] [@misc57@] [@misc58@] [@misc59@] [@misc5_name@] [@misc6@] [@misc60@] [@misc61@] [@misc62@] [@misc63@] [@misc64@] [@misc65@] [@misc66@] [@misc67@] [@misc68@] [@misc69@] [@misc6_name@] [@misc7@] [@misc70@] [@misc71@] [@misc72@] [@misc73@] [@misc74@] [@misc7_name@] [@misc8@] [@misc8_name@] [@misc9@] [@misc9_name@] [@mlp_price@] [@model@] [@monthly_spent@] [@multiplier_qty@] [@multiplier_qty_start@] [@name@] [@notax@] [@onreload@] [@origin_country@] [@parent_inventory_id@] [@parent_sku@] [@pick_priority@] [@pick_scan_qty@] [@pick_zone@] [@preorder@] [@preorder_date@] [@preorder_quantity@] [@preview@] [@price@] [@primary_suppliers_id@] [@primary_warehouse_id@] [@print_label@] [@product_id@] [@product_subtype@] [@product_type@] [@product_url@] [@promo_end@] [@promo_id@] [@promo_price@] [@promo_save@] [@promo_start@] [@purchase_taxcode@] [@quantity_sold@] [@rating@] [@rating_decimal@] [@rating_round_half@] [@ref@] [@regen_url@] [@rental_only@] [@reorder_quantity@] [@repeat_type@] [@req_pack@] [@restock_quantity@] [@restock_warning_level@] [@retail@] [@reviews@] [@rndm@] [@sales_commission_percent@] [@save@] [@save_price@] [@sell_qty@] [@serial_tracking@] [@service_level@] [@service_only@] [@sh_type_id@] [@ship_city@] [@ship_country@] [@ship_pobox@] [@ship_state@] [@ship_zip@] [@shipping@] [@short_description@] [@single_price@] [@sku@] [@specifications@] [@split_for_picking@] [@start_date@] [@status@] [@stockpriceupd_date@] [@store_price@] [@store_quantity@] [@subtitle@] [@supplier@] [@supplier_code@] [@supplier_product_name@] [@swatch@] [@tax_category@] [@tax_inc@] [@thumb@](CODE) [@thumb_1@](CODE) [@thumb_10@](CODE) [@thumb_2@](CODE) [@thumb_3@](CODE) [@thumb_4@](CODE) [@thumb_5@](CODE) [@thumb_6@](CODE) [@thumb_7@](CODE) [@thumb_8@](CODE) [@thumb_9@](CODE) [@timestamp@] [@tnc@] [@type@] [@unit@] [@update_bundle_price@] [@url@](CODE) [@visible@] [@warranty@] [@weight@] [@width@] [@^acc_code@] [@^acc_qty_multiplier@] [@^access_control@] [@^active@] [@^actual_height@] [@^actual_length@] [@^actual_width@] [@^allow_oversell@] [@^approval@] [@^approval_mobile@] [@^approval_pos@] [@^arrival_date@] [@^article_id@](REF) [@^artist_author@] [@^asset_account@] [@^auto_url_update@] [@^availability_description@] [@^available_preorder_quantity@] [@^avg_cost_price@] [@^barcode@] [@^barcode1@] [@^barcode2@] [@^barcode3@] [@^barcode_height@] [@^base_unit@] [@^base_unit_qty@] [@^blog_author@](REF) [@^blog_content@](REF) [@^blog_id@](REF) [@^blog_subheader@](REF) [@^blog_subject@](REF) [@^brand@] [@^brochure_url@] [@^build_quantity@] [@^buy_qty@] [@^category_id@](REF) [@^category_name@](REF) [@^category_ref@](REF) [@^category_subheader@](REF) [@^ccat_id@](REF) [@^cogs_account@] [@^committed_quantity@] [@^compat_id@](REF) [@^compat_list_id@](REF) [@^compatcat_description@](REF) [@^compatcat_description2@](REF) [@^compatcat_fullname@](REF) [@^compatcat_name@](REF) [@^compatcat_ref@](REF) [@^content@](REF) [@^content_allow_reviews@] [@^content_author@] [@^content_compatibility_code@] [@^content_description1@] [@^content_description2@] [@^content_description3@] [@^content_external_ref1@] [@^content_external_ref2@] [@^content_external_ref3@] [@^content_external_src@] [@^content_fullpath@] [@^content_id@] [@^content_label1@] [@^content_label2@] [@^content_label3@] [@^content_level@] [@^content_module@] [@^content_name@] [@^content_ref@] [@^content_short_description1@] [@^content_short_description2@] [@^content_short_description3@] [@^content_type_code@] [@^content_type_id@] [@^content_type_name@] [@^content_wufoo_form@] [@^cost@] [@^coupons@] [@^created_at@] [@^cubic@] [@^current_id@] [@^current_sku@] [@^custom_label@] [@^date_created@] [@^date_posted@] [@^date_updated@](REF) [@^default_purchase_price@] [@^default_restock_quantity@] [@^description@] [@^description2@](REF) [@^display_template@] [@^dropshipper@] [@^ebay_description@] [@^ebay_product_detail@] [@^ebay_quantity@] [@^editable_bundle@] [@^expense_acc@] [@^external_ref@](REF) [@^extra@] [@^featured@] [@^features@] [@^filter1@] [@^filter2@] [@^filter3@] [@^filter4@] [@^filter5@] [@^filter6@] [@^filter7@] [@^filter8@] [@^filter9@] [@^format@] [@^free_gifts@] [@^gp_restriction@] [@^group_name@] [@^handling_time@] [@^has_child@] [@^has_components@] [@^has_from_price@] [@^has_mlp@] [@^has_variation@] [@^height@] [@^hs_tariff_number@] [@^id@](REF) [@^image_url@] [@^image_url_check_days@] [@^imgupd_date@] [@^in_display_page@] [@^income_account@] [@^incoming_quantity@] [@^inpromo@] [@^instock@] [@^internal_note@] [@^inventory_id@] [@^is_au_gst_exempted@] [@^is_bought@] [@^is_inventoried@] [@^is_kit@] [@^is_neto_utility@] [@^is_nz_gst_exempted@] [@^is_sold@] [@^itm_gp_id@] [@^itm_sortorder@] [@^itm_sortorder2@] [@^itm_subtype@] [@^job_id@] [@^keywords@] [@^length@] [@^limited_stock@] [@^manufacturer_model@] [@^max_qty@] [@^min_qty@] [@^misc1@] [@^misc10@] [@^misc10_name@] [@^misc11@] [@^misc11_name@] [@^misc12@] [@^misc12_name@] [@^misc13@] [@^misc14@] [@^misc15@] [@^misc16@] [@^misc16_name@] [@^misc17@] [@^misc18@] [@^misc19@] [@^misc19_name@] [@^misc1_name@] [@^misc2@] [@^misc20@] [@^misc20_name@] [@^misc21@] [@^misc22@] [@^misc23@] [@^misc24@] [@^misc25@] [@^misc26@] [@^misc27@] [@^misc28@] [@^misc29@] [@^misc2_name@] [@^misc3@] [@^misc30@] [@^misc31@] [@^misc32@] [@^misc33@] [@^misc34@] [@^misc35@] [@^misc36@] [@^misc37@] [@^misc38@] [@^misc39@] [@^misc3_name@] [@^misc4@] [@^misc40@] [@^misc41@] [@^misc42@] [@^misc42_name@] [@^misc43@] [@^misc43_name@] [@^misc44@] [@^misc44_name@] [@^misc45@] [@^misc45_name@] [@^misc46@] [@^misc46_name@] [@^misc47@] [@^misc48@] [@^misc49@] [@^misc4_name@] [@^misc5@] [@^misc50@] [@^misc51@] [@^misc52@] [@^misc53@] [@^misc54@] [@^misc55@] [@^misc56@] [@^misc57@] [@^misc58@] [@^misc59@] [@^misc5_name@] [@^misc6@] [@^misc60@] [@^misc61@] [@^misc62@] [@^misc63@] [@^misc64@] [@^misc65@] [@^misc66@] [@^misc67@] [@^misc68@] [@^misc69@] [@^misc6_name@] [@^misc7@] [@^misc70@] [@^misc71@] [@^misc72@] [@^misc73@] [@^misc74@] [@^misc7_name@] [@^misc8@] [@^misc8_name@] [@^misc9@] [@^misc9_name@] [@^mlp_price@] [@^model@] [@^monthly_spent@] [@^multiplier_qty@] [@^multiplier_qty_start@] [@^name@] [@^no_shipping@] [@^notax@] [@^origin_country@] [@^page_content@](REF) [@^page_editor@](REF) [@^page_header@](REF) [@^page_id@](REF) [@^page_index@](REF) [@^page_subheader@](REF) [@^parent_ccat_id@](REF) [@^parent_content_id@] [@^parent_id@](REF) [@^parent_inventory_id@] [@^parent_sku@] [@^pick_priority@] [@^pick_scan_qty@] [@^pick_zone@] [@^preorder@] [@^preorder_date@] [@^preorder_quantity@] [@^price@] [@^primary_suppliers_id@] [@^primary_warehouse_id@] [@^print_label@] [@^product_id@] [@^product_subtype@] [@^product_type@] [@^product_url@] [@^promo_end@] [@^promo_id@] [@^promo_price@] [@^promo_save@] [@^promo_start@] [@^purchase_taxcode@] [@^quantity_sold@] [@^rating@] [@^rating_decimal@] [@^rating_round_half@] [@^ref@] [@^regen_url@] [@^rental_only@] [@^reorder_quantity@] [@^repeat_type@] [@^req_pack@] [@^restock_quantity@] [@^restock_warning_level@] [@^retail@] [@^reviews@] [@^sales_commission_percent@] [@^save@] [@^save_price@] [@^sell_qty@] [@^serial_tracking@] [@^service_level@] [@^service_only@] [@^sh_type_id@] [@^shipping@] [@^short_description@] [@^single_price@] [@^sku@] [@^sortorder@] [@^specifications@] [@^split_for_picking@] [@^start_date@] [@^status@] [@^stockpriceupd_date@] [@^store_price@] [@^store_quantity@] [@^subtitle@] [@^supplier@] [@^supplier_code@] [@^supplier_product_name@] [@^swatch@] [@^tax_category@] [@^tax_inc@] [@^templatebody@] [@^templatefoot@] [@^templatehead@] [@^templatesearch@] [@^thumb@](CODE) [@^thumb_1@](CODE) [@^thumb_10@](CODE) [@^thumb_2@](CODE) [@^thumb_3@](CODE) [@^thumb_4@](CODE) [@^thumb_5@](CODE) [@^thumb_6@](CODE) [@^thumb_7@](CODE) [@^thumb_8@](CODE) [@^thumb_9@](CODE) [@^thumb_content_type_id@] [@^timestamp@] [@^title@](REF) [@^tnc@] [@^type@] [@^unit@] [@^update_bundle_price@] [@^url@] [@^visible@] [@^warranty@] [@^weight@] [@^width@]
---
$12.12
In Stock

Ready to Ship

More info.
Make 4 payments of $3.03 over 8 weeks and get it now!
---
30 Day Returns
Express Shipping Available
Family Owned & Operated Business
Tax Invoice & Tracking On All orders
Shipping Calculator
Enter your qty and post code to calculate
Linishing Belts - Aluminium Oxide - General Purpose - Various Sizes & Grits

Choose from a variety of grits to suit your application.

Belt features:
Materials to be worked: unalloyed steel, alloyed steel, non-ferrous
Abrasive: Aluminium Oxide

Need a unique belt size or material ? Contact PFERD Australia on 1300 073 373 or email online@pferd.com.au

PFERD manufactures coated abrasives in Australia to order.

Be The First To Review This Product!
Help other Revolution Industrial Australia users shop smarter by writing reviews for products you have purchased.
Website currency converter
Shop Now. Pay Later.
100% Interest-free.
Simple instalment plans available instantly at checkout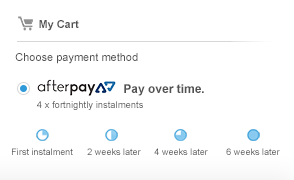 Select Afterpay as your payment method
Use your existing debit or credit card
Complete your checkout in seconds
No long forms, instant approval online
Pay over 4 equal instalments
Pay fortnightly, enjoy your purchase straight away!
---
All your need is:
1) An Australian Visa or Mastercard debit/credit card; 2) To be over 18 years of age; 3) To live in Australia
To see Afterpay's complete terms, visit https://www.afterpay.com.au/terms
© 2019 Afterpay