[@acc_code@] [@acc_qty_multiplier@] [@active@] [@actual_height@] [@actual_length@] [@actual_width@] [@alias_description@] [@alias_sku@] [@allow_oversell@] [@approval@] [@approval_mobile@] [@approval_pos@] [@arrival_date@] [@artist_author@] [@asset_account@] [@auto_url_update@] [@availability_description@] [@available_preorder_quantity@] [@avg_cost_price@] [@barcode@] [@barcode1@] [@barcode2@] [@barcode3@] [@barcode_height@] [@base_unit@] [@base_unit_qty@] [@brand@] [@brochure_url@] [@build_quantity@] [@buy_qty@] [@cogs_account@] [@committed_quantity@] [@compatibility_code@] [@compatibility_notes@] [@content_id@] [@cost@] [@coupons@] [@created_at@] [@cubic@] [@current_id@] [@current_sku@] [@custom_label@] [@date_created@] [@default_purchase_price@] [@default_restock_quantity@] [@description@] [@display_template@] [@dropshipper@] [@ebay_description@] [@ebay_product_detail@] [@ebay_quantity@] [@editable_bundle@] [@expense_acc@] [@extra@] [@featured@] [@features@] [@filter1@] [@filter2@] [@filter3@] [@filter4@] [@filter5@] [@filter6@] [@filter7@] [@filter8@] [@filter9@] [@format@] [@free_gifts@] [@gp_restriction@] [@group_name@] [@handling_time@] [@has_child@] [@has_components@] [@has_from_price@] [@has_mlp@] [@height@] [@hs_tariff_number@] [@id@] [@image_url@] [@image_url_check_days@] [@imgupd_date@] [@in_display_page@] [@income_account@] [@incoming_quantity@] [@inpromo@] [@instock@] [@internal_note@] [@inventory_id@] [@is_au_gst_exempted@] [@is_bought@] [@is_inventoried@] [@is_kit@] [@is_neto_utility@] [@is_nz_gst_exempted@] [@is_sold@] [@itm_gp_id@] [@itm_sortorder@] [@itm_sortorder2@] [@itm_subtype@] [@job_id@] [@keywords@] [@length@] [@limited_stock@] [@manufacturer_model@] [@max_qty@] [@min_qty@] [@misc1@] [@misc10@] [@misc10_name@] [@misc11@] [@misc11_name@] [@misc12@] [@misc13@] [@misc14@] [@misc15@] [@misc16@] [@misc16_name@] [@misc17@] [@misc18@] [@misc19@] [@misc19_name@] [@misc1_name@] [@misc2@] [@misc20@] [@misc21@] [@misc22@] [@misc23@] [@misc24@] [@misc25@] [@misc26@] [@misc27@] [@misc28@] [@misc29@] [@misc2_name@] [@misc3@] [@misc30@] [@misc31@] [@misc32@] [@misc33@] [@misc34@] [@misc35@] [@misc36@] [@misc37@] [@misc38@] [@misc39@] [@misc3_name@] [@misc4@] [@misc40@] [@misc41@] [@misc42@] [@misc42_name@] [@misc43@] [@misc43_name@] [@misc44@] [@misc44_name@] [@misc45@] [@misc45_name@] [@misc46@] [@misc46_name@] [@misc47@] [@misc48@] [@misc49@] [@misc4_name@] [@misc5@] [@misc50@] [@misc51@] [@misc52@] [@misc53@] [@misc54@] [@misc55@] [@misc56@] [@misc57@] [@misc58@] [@misc59@] [@misc5_name@] [@misc6@] [@misc60@] [@misc61@] [@misc62@] [@misc63@] [@misc64@] [@misc65@] [@misc66@] [@misc67@] [@misc68@] [@misc69@] [@misc6_name@] [@misc7@] [@misc70@] [@misc71@] [@misc72@] [@misc73@] [@misc74@] [@misc7_name@] [@misc8@] [@misc8_name@] [@misc9@] [@misc9_name@] [@mlp_price@] [@model@] [@monthly_spent@] [@multiplier_qty@] [@multiplier_qty_start@] [@name@] [@notax@] [@onreload@] [@origin_country@] [@parent_inventory_id@] [@parent_sku@] [@pick_priority@] [@pick_scan_qty@] [@pick_zone@] [@preorder@] [@preorder_date@] [@preorder_quantity@] [@preview@] [@price@] [@primary_suppliers_id@] [@primary_warehouse_id@] [@print_label@] [@product_id@] [@product_subtype@] [@product_type@] [@product_url@] [@promo_end@] [@promo_id@] [@promo_price@] [@promo_save@] [@promo_start@] [@purchase_taxcode@] [@quantity_sold@] [@rating@] [@rating_decimal@] [@rating_round_half@] [@ref@] [@regen_url@] [@rental_only@] [@reorder_quantity@] [@repeat_type@] [@req_pack@] [@restock_quantity@] [@restock_warning_level@] [@retail@] [@reviews@] [@rndm@] [@sales_commission_percent@] [@save@] [@save_price@] [@sell_qty@] [@serial_tracking@] [@service_level@] [@service_only@] [@sh_type_id@] [@ship_city@] [@ship_country@] [@ship_pobox@] [@ship_state@] [@ship_zip@] [@shipping@] [@short_description@] [@single_price@] [@sku@] [@specifications@] [@split_for_picking@] [@start_date@] [@status@] [@stockpriceupd_date@] [@store_price@] [@store_quantity@] [@subtitle@] [@supplier@] [@supplier_code@] [@supplier_product_name@] [@swatch@] [@tax_category@] [@tax_inc@] [@thumb@](CODE) [@thumb_1@](CODE) [@thumb_10@](CODE) [@thumb_2@](CODE) [@thumb_3@](CODE) [@thumb_4@](CODE) [@thumb_5@](CODE) [@thumb_6@](CODE) [@thumb_7@](CODE) [@thumb_8@](CODE) [@thumb_9@](CODE) [@timestamp@] [@tnc@] [@type@] [@unit@] [@update_bundle_price@] [@url@](CODE) [@visible@] [@warranty@] [@weight@] [@width@] [@^acc_code@] [@^acc_qty_multiplier@] [@^access_control@] [@^active@] [@^actual_height@] [@^actual_length@] [@^actual_width@] [@^allow_oversell@] [@^approval@] [@^approval_mobile@] [@^approval_pos@] [@^arrival_date@] [@^article_id@](REF) [@^artist_author@] [@^asset_account@] [@^auto_url_update@] [@^availability_description@] [@^available_preorder_quantity@] [@^avg_cost_price@] [@^barcode@] [@^barcode1@] [@^barcode2@] [@^barcode3@] [@^barcode_height@] [@^base_unit@] [@^base_unit_qty@] [@^blog_author@](REF) [@^blog_content@](REF) [@^blog_id@](REF) [@^blog_subheader@](REF) [@^blog_subject@](REF) [@^brand@] [@^brochure_url@] [@^build_quantity@] [@^buy_qty@] [@^category_id@](REF) [@^category_name@](REF) [@^category_ref@](REF) [@^category_subheader@](REF) [@^ccat_id@](REF) [@^cogs_account@] [@^committed_quantity@] [@^compat_id@](REF) [@^compat_list_id@](REF) [@^compatcat_description@](REF) [@^compatcat_description2@](REF) [@^compatcat_fullname@](REF) [@^compatcat_name@](REF) [@^compatcat_ref@](REF) [@^content@](REF) [@^content_allow_reviews@] [@^content_author@] [@^content_compatibility_code@] [@^content_description1@] [@^content_description2@] [@^content_description3@] [@^content_external_ref1@] [@^content_external_ref2@] [@^content_external_ref3@] [@^content_external_src@] [@^content_fullpath@] [@^content_id@] [@^content_label1@] [@^content_label2@] [@^content_label3@] [@^content_level@] [@^content_module@] [@^content_name@] [@^content_ref@] [@^content_short_description1@] [@^content_short_description2@] [@^content_short_description3@] [@^content_type_code@] [@^content_type_id@] [@^content_type_name@] [@^content_wufoo_form@] [@^cost@] [@^coupons@] [@^created_at@] [@^cubic@] [@^current_id@] [@^current_sku@] [@^custom_label@] [@^date_created@] [@^date_posted@] [@^date_updated@](REF) [@^default_purchase_price@] [@^default_restock_quantity@] [@^description@] [@^description2@](REF) [@^display_template@] [@^dropshipper@] [@^ebay_description@] [@^ebay_product_detail@] [@^ebay_quantity@] [@^editable_bundle@] [@^expense_acc@] [@^external_ref@](REF) [@^extra@] [@^featured@] [@^features@] [@^filter1@] [@^filter2@] [@^filter3@] [@^filter4@] [@^filter5@] [@^filter6@] [@^filter7@] [@^filter8@] [@^filter9@] [@^format@] [@^free_gifts@] [@^gp_restriction@] [@^group_name@] [@^handling_time@] [@^has_child@] [@^has_components@] [@^has_from_price@] [@^has_mlp@] [@^height@] [@^hs_tariff_number@] [@^id@](REF) [@^image_url@] [@^image_url_check_days@] [@^imgupd_date@] [@^in_display_page@] [@^income_account@] [@^incoming_quantity@] [@^inpromo@] [@^instock@] [@^internal_note@] [@^inventory_id@] [@^is_au_gst_exempted@] [@^is_bought@] [@^is_inventoried@] [@^is_kit@] [@^is_neto_utility@] [@^is_nz_gst_exempted@] [@^is_sold@] [@^itm_gp_id@] [@^itm_sortorder@] [@^itm_sortorder2@] [@^itm_subtype@] [@^job_id@] [@^keywords@] [@^length@] [@^limited_stock@] [@^manufacturer_model@] [@^max_qty@] [@^min_qty@] [@^misc1@] [@^misc10@] [@^misc10_name@] [@^misc11@] [@^misc11_name@] [@^misc12@] [@^misc13@] [@^misc14@] [@^misc15@] [@^misc16@] [@^misc16_name@] [@^misc17@] [@^misc18@] [@^misc19@] [@^misc19_name@] [@^misc1_name@] [@^misc2@] [@^misc20@] [@^misc21@] [@^misc22@] [@^misc23@] [@^misc24@] [@^misc25@] [@^misc26@] [@^misc27@] [@^misc28@] [@^misc29@] [@^misc2_name@] [@^misc3@] [@^misc30@] [@^misc31@] [@^misc32@] [@^misc33@] [@^misc34@] [@^misc35@] [@^misc36@] [@^misc37@] [@^misc38@] [@^misc39@] [@^misc3_name@] [@^misc4@] [@^misc40@] [@^misc41@] [@^misc42@] [@^misc42_name@] [@^misc43@] [@^misc43_name@] [@^misc44@] [@^misc44_name@] [@^misc45@] [@^misc45_name@] [@^misc46@] [@^misc46_name@] [@^misc47@] [@^misc48@] [@^misc49@] [@^misc4_name@] [@^misc5@] [@^misc50@] [@^misc51@] [@^misc52@] [@^misc53@] [@^misc54@] [@^misc55@] [@^misc56@] [@^misc57@] [@^misc58@] [@^misc59@] [@^misc5_name@] [@^misc6@] [@^misc60@] [@^misc61@] [@^misc62@] [@^misc63@] [@^misc64@] [@^misc65@] [@^misc66@] [@^misc67@] [@^misc68@] [@^misc69@] [@^misc6_name@] [@^misc7@] [@^misc70@] [@^misc71@] [@^misc72@] [@^misc73@] [@^misc74@] [@^misc7_name@] [@^misc8@] [@^misc8_name@] [@^misc9@] [@^misc9_name@] [@^mlp_price@] [@^model@] [@^monthly_spent@] [@^multiplier_qty@] [@^multiplier_qty_start@] [@^name@] [@^no_shipping@] [@^notax@] [@^origin_country@] [@^page_content@](REF) [@^page_editor@](REF) [@^page_header@](REF) [@^page_id@](REF) [@^page_index@](REF) [@^page_subheader@](REF) [@^parent_ccat_id@](REF) [@^parent_content_id@] [@^parent_id@](REF) [@^parent_inventory_id@] [@^parent_sku@] [@^pick_priority@] [@^pick_scan_qty@] [@^pick_zone@] [@^preorder@] [@^preorder_date@] [@^preorder_quantity@] [@^price@] [@^primary_suppliers_id@] [@^primary_warehouse_id@] [@^print_label@] [@^product_id@] [@^product_subtype@] [@^product_type@] [@^product_url@] [@^promo_end@] [@^promo_id@] [@^promo_price@] [@^promo_save@] [@^promo_start@] [@^purchase_taxcode@] [@^quantity_sold@] [@^rating@] [@^rating_decimal@] [@^rating_round_half@] [@^ref@] [@^regen_url@] [@^rental_only@] [@^reorder_quantity@] [@^repeat_type@] [@^req_pack@] [@^restock_quantity@] [@^restock_warning_level@] [@^retail@] [@^reviews@] [@^sales_commission_percent@] [@^save@] [@^save_price@] [@^sell_qty@] [@^serial_tracking@] [@^service_level@] [@^service_only@] [@^sh_type_id@] [@^shipping@] [@^short_description@] [@^single_price@] [@^sku@] [@^sortorder@] [@^specifications@] [@^split_for_picking@] [@^start_date@] [@^status@] [@^stockpriceupd_date@] [@^store_price@] [@^store_quantity@] [@^subtitle@] [@^supplier@] [@^supplier_code@] [@^supplier_product_name@] [@^swatch@] [@^tax_category@] [@^tax_inc@] [@^templatebody@] [@^templatefoot@] [@^templatehead@] [@^templatesearch@] [@^thumb@](CODE) [@^thumb_1@](CODE) [@^thumb_10@](CODE) [@^thumb_2@](CODE) [@^thumb_3@](CODE) [@^thumb_4@](CODE) [@^thumb_5@](CODE) [@^thumb_6@](CODE) [@^thumb_7@](CODE) [@^thumb_8@](CODE) [@^thumb_9@](CODE) [@^thumb_content_type_id@] [@^timestamp@] [@^title@](REF) [@^tnc@] [@^type@] [@^unit@] [@^update_bundle_price@] [@^url@](CODE) [@^visible@] [@^warranty@] [@^weight@] [@^width@]
---
$429.00
Sold Out

Backorder Available

More info.
Make 4 payments of $107.25 over 8 weeks and get it now!
---
30 Day Returns
Express Shipping Available
Family Owned & Operated Business
Tax Invoice & Tracking On All orders
Set of 9 inductors for Betex iDuctor (Sold Separately)
Consisting of 8 induction spirals in sizes min/max ID: 18-52 mm (bolt sizes M8- M30) and 1 U-inductor, ID 160 mm; all easy to exchange
Flexible inductor, 1.1 metre
iD-pad for heating flat surfaces to remove coating layers, decals
Heat resistant gloves up to 300°C
Specifications
| | |
| --- | --- |
| SKU | 231204 |
| Model # | 231204 |
| Brand | Betex |
| Shipping Weight | 1.0000kg |
Be The First To Review This Product!
Help other Revolution Industrial Australia users shop smarter by writing reviews for products you have purchased.
Shipping Calculator
Enter your qty and post code to calculate
Website currency converter
Shop Now. Pay Later.
100% Interest-free.
Simple instalment plans available instantly at checkout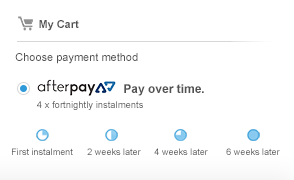 Select Afterpay as your payment method
Use your existing debit or credit card
Complete your checkout in seconds
No long forms, instant approval online
Pay over 4 equal instalments
Pay fortnightly, enjoy your purchase straight away!
---
All your need is:
1) An Australian Visa or Mastercard debit/credit card; 2) To be over 18 years of age; 3) To live in Australia
To see Afterpay's complete terms, visit https://www.afterpay.com.au/terms
© 2019 Afterpay